Birthstones and Zodiac Gemstones
It seems that everyone knows that there is a particular gemstone associated with the month of their birth, but did you know that the signs of our zodiac have also long been linked to semi precious gemstones? Each sign, as well as some birth months, have several possible associated gemstones, which is why stones are often referred to as "having an affinity with", rather than being specific to a particular month or zodiac sign.
Of course, you don't have to stick with your own birthstone. If something else "feels" good, go with it!
Monthly Birthstones


| | | | |
| --- | --- | --- | --- |
| January: | Garnet | July: | Ruby |
| February: | Amethyst | August: | Peridot, Sardonyx |
| March: | Aquamarine | September: | Sapphire |
| April: | Diamond | October: | Opal, Pink Tourmaline |
| May: | Emerald, Chrysophase | November: | Yellow Sapphire, Citrine |
| June: | Pearl, Moonstone, Alexandrite | December: | Tanzanite, Blue Topaz, Lapiz Lazuli |
Additional Zodiac Birthstone Information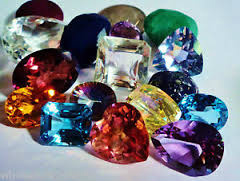 AIRES: March 21—April 20
Aquamarine,Aventurine, Bloodstone,Cats Eye, Citrine, Clear Quartz,Emerald, Diamond, Garnet, Jade, Kyanite, Ruby, Sardonyx.
TAURUS: April 21—May 21
Carnelian, Cats Eye, Chrysocolla,Chrysoprase,Coral, Diamond, Iolite, Jade, Lapiz Lazuli, Kyanite, Rutile, Blue Tourmaline, Rose Quartz.
GEMINI: May 22—June 21
Agate, Apatite, Aquamarine, Citrine, Chrysocolla, Chrysoprase, Emerald, Howlite, Onyx, Pearl, Rutile, Sandstone, Blue Sapphire, Serpentine.
CANCER: June 22—July 23
Calcite, Carnelian, Chalcedony, Clear Quartz, Moonstone, Opal, Pearl, Ruby.
LEO: July 24—August 23
Amber, Aventurine, Carnelian, Citrine, Clear Quartz, Garnet, Jasper, Labradorite, Onyx, Peridot, Rhodocrosite, Ruby, Yellow Sapphire, Sardonyx, Sunstone, Topaz, Pink and Green Tourmaline.
VIRGO: August 24—September 23
Agate, Amazonite, Amethyst, Carnelian, Chalcedony,Chrysocolla, Garnet, Jasper, Peridot, Sapphire, Snowflake Obsidian, Tourmaline.
LIBRA: September 24—October 23
Ametrine, Bloodstone, Ametrine, Citrine, Emerald, Iolite, Kyanite, Malachite, Opal, Moonstone, Prehnite, Jade, Sapphire, Tourmaline, Sunstone.
SCORPIO: October 24—November 22
Aquamarine, Botswana Agate, Clear Quartz, Jasper, Obsidian, Labradorite, Opal, Moonstone, Malachite, Rhodocrosite, Peridot, Smoky Quartz, Turquoise.
SAGITTARIUS: November 23—December 21
Amethyst, Chalcedony, Clear Quartz, Iolite, Labradorite, Lapiz Lazuli, Obsidian, Peridot, Ruby, Sapphire, Smoky Quartz, Topaz, Turquoise.
CAPRICORN: December 22—January 20
Amethyst, Aragonite, Cats Eye, Clear Quartz, Fluorite, Malachite, Ocean Jasper, Smoky Quartz, Tiger Eye, Green Tourmaline.
Aquarius: January 21—February 19
Amber, Amethyst, Aquamarine, Chalcedony, Clear Quartz, Hematite, Turquoise.
PISCES: February 20—March 20
Amethyst, Aquamarine, Bloodstone, Blue Lace Agate, Opal, Coral, Fluorite, Turquoise.